Diversity, equity and inclusion are foundational to everything we do and is woven into the strategies, practices and future of the JLD. We are an organization of strong, diverse women committed to building a better Dallas. Our work and the work of organizations like ours is never done. 
We do not stand with you in words alone.
2023 Diversity & Inclusion Summit
Sponsored by Baker Botts
The Junior League of Dallas and Baker Botts L.L.P. invite you to our 2023 Diversity & Inclusion Summit: Disparities and Biases in Healthcare.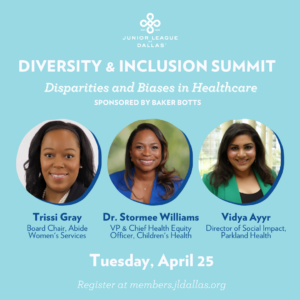 Health and healthcare disparities between groups are closely linked with issues of diversity, equity, and inclusion. Disparities occur across many dimensions, including race/ethnicity, socioeconomic status, age, location, gender, disability status, and sexual orientation. Differences in care affect not only the groups facing them, but also limit overall gains in quality of life and health for the broader population.
Join us for a fascinating look at leading causes of healthcare disparities, their connection to the JLD's work in the community, and what we can all do to make a difference.
Members can register here. Please join our welcome reception at 5:45 p.m. The program will begin at 6:30 p.m. Members are welcome to invite a non-member guest to join. Please note any guests in the comment portion of the registration link.
Personal Study Resources
A diverse organization is a strong organization. One key to fostering a robust and inclusive environment is learning. We have curated a list of valuable resources for those who are interested in broadening their perspectives.
View exemplary D&I Resources here
In-League Training
The JLD strives to educate its members on diversity, inclusion, equity and belonging. We provide Member programming designed to provide education around issues facing diverse populations, including people of color, the LGBTQIA+ community and different socioeconomic backgrounds.
DIVERSITY & INCLUSION SPONSOR

Videos
2021 SUMMER SERIES - ISSUES FACING THE LGBTQ+ COMMUNITY AND HOW WE CAN BE ALLIES
Our August 2021 event delved into issues facing the LGBTQI+ community and how we can be allies.
2021 Virtual Diversity & Inclusion Summit- "Finding Your Voice & Embracing Your Authenticity"
We are committed to finding strength in the diverse ideas, backgrounds and perspectives we each bring. We hope this Summit inspires us all, challenges us with new ideas and empowers us to harness our authentic selves as a pathway to diversity and inclusion.
2020 Summer Series - Book Study: "White Fragility" & "So You Want to Talk about Race"
Join and discuss key points of two important books focused on diversity and inclusion. We will explore how these learnings can be applied in everyday life, and how racial healing begins at personal and local levels.
2020 Summer Series - History of Race in Dallas
Learn more about the history of social injustices and redlining in Dallas to better understand how Dallas' history impacts the JLD mission and our issue areas.
2020 Summer Series - Listen, Learn and Now What
What does it mean to be an ally? What are microaggressions and how can we avoid them? What is in the JLD D&I Action Plan? Learn the answers to all three questions and more during the first session in our virtual Summer Series.