T. Boone Pickens Leadership Institute
The T. Boone Pickens Leadership Institute is a program designed to provide training to our members on identifying and building strengths, enhancing leadership skills, developing relationships to help prepare members for leadership service within the Dallas community.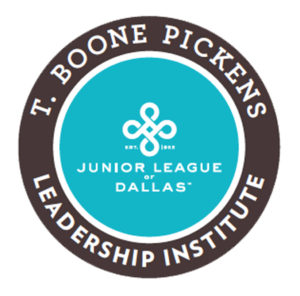 Established in 2008 with a generous gift from the T. Boone Pickens Foundation, the program serves to grow the leadership skills of a selected annual class of our members through their participation in a 10-month development and strengths training course. Today, 358 members have participated in the Leadership Institute and have taken what they have learned to advance their careers, lead for- and nonprofit boards and serve in elected and civic held positions. Graduates of the program leave motivated to impact the Dallas community and equipped with the knowledge and skills needed to bring positive and effective change.
2023 – 2024 Applications will be open June 1 through June 30
To submit an application please click HERE
UPCOMING INFORMATION SESSION
Wednesday, June 14, 2023, 6:00-6:30 p.m. via ZOOM
Timeline and Fees
Applications will be available June 1 – June 30. The T. Boone Pickens Leadership Institute will be selected and confirmed by mid-July. To be eligible you must have completed 3 years of Active service.
The cost of registration is $350* which will be payable upon program acceptance.
*Scholarships are available.  If needed, please indicate on your application. Your need for a scholarship will not factor into whether or not you are accepted into the program.
Program Requirements
Participants commit to attending a weekend retreat, Sept. 8-9, and monthly Friday or Saturday training sessions on Oct. 6, Nov. 10, Dec. 1, Jan. 19, Feb. 2, March 1, April 5 and May 3. These sessions will run 9:00 a.m. until 5:00 p.m. Up to two of the eight meetings may be missed; graduation from the program is dictated by participation.
No placement or meeting credit will be given for Leadership Institute participation. Participants agree to fulfill the obligations in addition to their normal meeting requirements, placement requirements and dues.
Alumnae Program
The T. Boone Pickens Leadership Institute Advanced Track Alumnae program was created in 2013 for alumnae to connect through breakfast, book club meetings, dinner and community service projects. Members are encouraged to continue their training by attending current T. Boone Pickens Leadership Institute classes and events.
TBPLI Graduates Create Ripple Effect for Change
alumnae survey conducted in 2019
advanced their career from promotions to new jobs, with opportunities in a wide range of industries

held an elected or appointed position, many in a community organization or professional organization

held leadership positions in professional associations

served on the board of a nonprofit or for-profit organization
started their own business

employ others through the business the graduates started

received honors or awards in the workplace and/or the community

served on Leadership Council, which implements programs and policies of JLD
2022 - 2023 T. Boone Pickens Leadership Class
Jenna Berg

Kimberly Blanton-Day

Aleshea Carriere

Jennifer Childers

Alexis Cook

Julianne Cook

Nicole Devlin

Ann Fritsche

Brandi Garrett

Kelsey George

Paige Hayes

Kelsey Kolandjian

Christine Leatherberry

Ashlee Long-Washington

Audrey Maxwell

Quiana Mitchell

Claudia Neba

Cait Phelan

Amber Porter Knowles

Michelle Prudhomme-Coleman

Molly Robben

Lynn Sawyer

Mary Kathleen Smith

Anna Stutler

Laura Sullivan

Cassie Walker

Jennifer Welden

Tessa Wilkin

Laura Zamora

Nicole Zrake