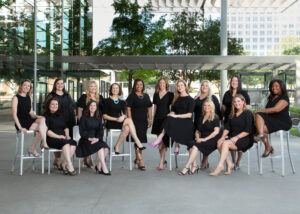 Board of Directors
The Board of Directors manages the activities, property and affairs of the Junior League of Dallas (JLD), emphasizing strategic and proactive leadership. The Board sets and revises governing policies and ensures the alignment of the JLD mission and vision at all levels of the organization through policy administration, financial management, strategic planning, operational continuity and public relations.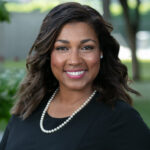 Christina Eubanks
Originally from Kansas City, MO., Christina lived in Washington D.C. and Philadelphia before moving to Dallas in 2006. She is the Vice President of Finance for Freeman Company.
Christina joined the Junior League of Dallas in 2012 and has held several leadership positions including serving as Community VP and Finance VP on the Board of Directors. She enjoyed serving the community at St. Philips School & Community Center as both a volunteer and as Project Chair. She has served the Research and Development Committee in various capacities as a Financial Analyst, Issue Coordinator, Facilitator, Community VP, and Finance VP and is a 2018 graduate of the T. Boone Pickens Leadership Institute.
In addition to the Junior League of Dallas, Christina serves on the Parkland Foundation Board of Directors and was a member of Leadership Dallas Class of 2023. She holds a bachelor's degree in finance from the University of Missouri and an MBA and MS in Accounting from the University of Texas at Dallas. Aside from her volunteer work, she loves to read, play tennis, and try out new recipes. Christina lives in Garland with her son, Matthew.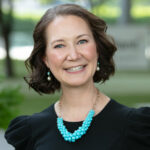 Tandra Allen
Tandra moved to Dallas in 2003 after graduating from Baylor University with a MS in Communication Sciences and Disorders. Originally from New Mexico, she spent time growing up across Texas cities including Amarillo and El Paso, as well as outside the state in South Carolina and Ohio. Tandra is assistant director of research at the Center for BrainHealth where she leads clinical research in the areas of social health and cognitive well-being. She is continuing her educational journey as a current master's in counseling student at Southern Methodist University.
Tandra joined the Junior League of Dallas in 2009. Her passion for serving the League and the Dallas community is result of roles held within the JLD including dinner host at Interfaith, Project Chair for North Dallas Shared Ministries, Auction Chair, Member Engagement Chair, Development Vice President, and Education Chair. She is also a 2015 graduate of the T. Boone Pickens Leadership Institute. Tandra and her husband, Michael, live in Lake Highlands with their three boys and Boston terrier.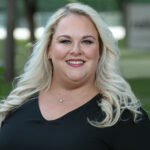 Jennifer Welden
A fourth generation Dallasite, Jennifer has a degree in Hospitality Administration and holds two professional certifications in Christian education from Perkins School of Theology. Using her love of event planning and education, Jennifer has been the Director of Children's Ministry at Lake Highlands United Methodist Church for 10 years. Her favorite part of being in ministry is showing and sharing the love of serving others to her many kids throughout the Lake Highlands community.
Following the example of service set by her mother and grandmother, joining the Junior League of Dallas was an organization she always knew she wanted to be a part of. Starting her 16th active year, Jennifer has had the privilege of serving as Community Outreach Chair, Research and Planning Chair and this year as the Auction Co-chair. Her favorite placements have been serving on the Underwriting committee several times, Research and Development and as a placement advisor. Jennifer is a 2023 graduate of T. Boone Pickens Leadership Institute.
Outside of the Junior League of Dallas, Jennifer serves Feed Lake Highlands, a nonprofit organization that strives to feed the mind, body, and spirit. Sending kids to summer camp is the greatest part of serving alongside FLH.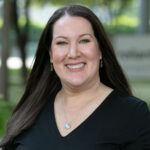 Nicole Binkley
Nicole was born and raised in Oklahoma but has called Dallas her home for almost 20 years. She is the Chief Operating Officer for Austin Street Center whose mission is to provide safe shelter and meet the basic needs of the most vulnerable homeless population. She holds a Bachelor of Journalism and Mass Communication from the University of Oklahoma and a Master of Public Administration with a focus on Nonprofit Management from the University of North Texas, where she currently sits on the Advisory Board for the MPA Department.
Nicole joined the Junior League of Dallas in 2017 and has served the community in a variety of roles, such as Habitat for Humanity volunteer, Recognition Coordinator, DallaCite editor, and Internal Communications Chair.
Nicole and her husband, Jason, live in Lewisville with their two boys, Henry, and Cooper.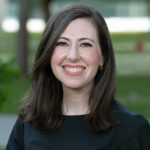 Laura Gazette
Born and raised in Tyler, Texas, Laura moved to Dallas after graduating with a BBA in Finance from the University of Texas at Austin in 2009. Laura has worked in the insurance industry for the past 14 years and is currently an Assistant Vice President, Home Office Property Underwriting, at Chubb. In 2012, Laura joined the Junior League of Dallas and has served in various roles since then including Grants for Innovative Teaching (GFIT) Researcher, Community Volunteer Fair Coordinator, Rays of Light Project Chair, Family Preservation Issue Coordinator, and, most recently, Research & Development Chair. Laura is also a 2019 graduate of the T. Boone Pickens Leadership Institute.
When she is not working or volunteering, Laura enjoys reading, eating at new restaurants, and taking walks around her neighborhood, White Rock Lake, and the Katy Trail. She is also a member of Park Cities Presbyterian Church. Laura currently lives in East Dallas near Lower Greenville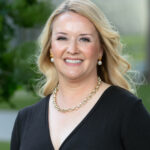 Heather McNamara
Heather is a committed community and civic volunteer, entering her 12th Active year in the League as Development Vice President. Heather and her husband found their way to Dallas 18 years ago, by way of California, and before that, the Midwest, where they grew up. Heather graduated with a BA in History from the University of Michigan (Go Blue!), then moved to Chicago. She worked as a Quality Assurance Analyst/Manager, people manager and Project Manager for Hewitt Associates. After 12 years, Heather decided to focus on family, and began a journey of stewardship that would change her life.
While working at Hewitt, Heather had volunteered with Junior Achievement, and grew up in a family where service to the community and others was part of life. Upon moving to Dallas, she met members of the Junior League of Dallas, joined and has been fully invested in serving the Dallas community ever since. Heather began as a CASA volunteer, then moved to leadership roles as the Project Chair for Promise House. Eventually, she stepped out of her comfort zone and decided to get involved in the fundraising efforts of the League, where she found her passion. Heather has served as the Auction Chair, Donor Development Chair and Luncheon Chair. She has also been very involved in the Mockingbird Elementary School (formerly Stonewall Jackson) PTA where she has served for over 10 years, finishing her tenure by serving as the PTA President this past year.  She has served in the Lakewood National Charity League as a Board Member, where she is able to pass her love of serving to her daughters. Heather has worked on several School Board and City Council elections. She is an alum of the T. Boone Pickens Leadership Institute. In addition, Heather has served as the chair for various fundraising events for many organizations, as a member of several auxiliary boards and continues to look for ways to serve her community.
Heather and her husband, Bill, live in the Lakewood area of Dallas with their two daughters, Alexis and Vivian, and their Golden Retrievers, Tilly Mae, and Max.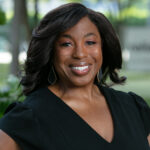 Renita Joyce Smith
Renita Joyce Smith is an accomplished professional known for her unique authenticity, wit, and delightful sense of humor that adds a sparkle to everything she does. Over her 23-year career in management consulting and strategy development, she has an established reputation for driving transformative changes within Fortune 500 organizations. She continues that work as a Principal with Thought Ensemble, a Pariveda Company.
Renita's commitment goes beyond traditional business and organizational strategy. She is a passionate advocate for diversity, equity, inclusion, and belonging, dedicating herself to the development and execution of actionable strategies that prioritize people. These human-centered strategies bridge the divide between theoretical concepts and their practical application in the workplace.
As an Executive and Authenticity Coach, People-First Facilitator, and Speaker, she channels her passion into creating transformative experiences. Renita recently delivered a powerful TEDx talk, inspiring audiences to embrace personal transformation and unlock their true authenticity. With her expertise, she cultivates supportive environments that enable individuals and teams to achieve their goals, tap into their potential, and foster meaningful connections and engagement.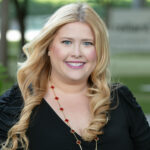 Kacy Stark
A native Houstonian, Kacy attended The Kinkaid School and The University of Texas at Austin, where she graduated Phi Beta Kappa. After graduation, Kacy moved to Dallas to work for American Airlines where she transformed the AA Vacations Product and held various roles across Loyalty and Customer Insights, Sales Strategy, and Revenue Management. Kacy currently works at Sabre Corporation, as a Sr. Manager, Product Management within the Airline IT travel space.
Kacy joined JL Dallas in 2014 and has served as Finance Chair, Fund Development Treasurer, Small Group Advisor, Provisional Retreat Director, Strategic Planning Team as Membership and Culture Liaison, Fund Development Underwriter, as well as completed the Leadership Training Track. A 2022 graduate of the T. Boone Pickens Leadership Institute, Kacy is passionate about JL Dallas and empowering, educating, and mentoring women to take leadership roles both professionally and in our community. In her spare time, Kacy is a world traveler having visited six continents, enjoys pub trivia, walking with friends, cheering on UT Football (hook 'em!), reading, and cooking!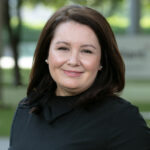 Harmony Hilton
Harmony is a graduate of Southern Methodist University (go 'Stangs!), a Dedman Scholar, and did her master's at the University of North Texas in Library and Information Science and has graduate certificates in youth services and storytelling. Her graduate work and thesis centered on information services and programming for youth and children as well as education; access and agency especially in communities of color; communication; outreach; operations; networking; and professional development. Harmony has over 15 years of experience at UT Southwestern Medical Center where she is currently the Program Manager of Public Education and Community Outreach at the Center of Depression Research and Clinical Care in the Department of Psychiatry.
Harmony works in mental health awareness to remove the stigma, promote education and research, and work toward a future free from the burden of mood disorders such as depression. Active in the Dallas community through various means surrounding STEAM, Harmony joined the Junior League of Dallas in 2016 and has served in a number of areas including Grants of Innovative Teaching, Women LEAD, Education, and the Perot Science Museum. Harmony is a Dallasite who loves the art, food, and fun offered throughout the city. She also enjoys the library, museum, and unique experiential trips with her partner and their two children as well as a good story and movie. The confluence of all her interests, professional, and personal experience is best encapsulated as "the arts inspire us to reach for the stars and science teaches us how."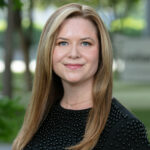 Mauri Hinterlong
Mauri was born and raised in Dallas. She attended Vanderbilt University to earn a BA in Political Science and History, and a JD from Marquette University Law School. She returned to Dallas to spend her last year of law school as a visiting student at SMU. She is the General Counsel, Vice President of Real Estate, Land and Legal and Corporate Secretary of HEYCO Energy Group, which manages domestic and international oil and gas exploration and development projects in the United States and Europe. Prior to joining HEYCO, she practiced law at a regional law firm focusing on the oil and gas industry and commercial real estate.
Mauri joined the Junior League of Dallas in 2016. She has served on the Governance Committee since 2020, ultimately as the chair. In this role she collaborated with her committee to review and update the JLD Bylaws and Polices & Procedures and conducts voting procedures. Mauri has also served as Public Relations Handbook Editor and served in the community at the North Texas Food Bank, Texas Discovery Gardens, and the Cancer Support Community of North Texas.
Her love of service came from her high school years at Ursuline Academy of Dallas. She is currently the Alumnae Board Vice President of School Relations and handles facilitating student engagement opportunities with alums and vice versa. She also acts as a moderator for the Student Alumnae Association.
In addition to JLD, she is an active member of the Dallas Bar Association, as a former Co-Vice Chair of the Legal Ethics Committee and current member of the In-House Counsel Section and Oil and Gas Section. She has been a Mentor in the Dallas Women Lawyers Association. She was a member of the 2021 Institute for Energy Law Leadership Class and the 2022 Dallas Bar Association WE LEAD Leadership Class. Mauri is a member of the Daughters of the American Revolution.
In her spare time, Mauri volunteers at her two beautiful young daughters' school St. Monica with her husband Matt.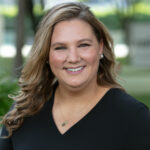 Emily Ronck
A Dallas native, Emily joined the Junior League of Austin in 2015 and transferred to the Junior League of Dallas after moving back to her hometown in 2017. Since transferring, Emily has served in various placements within the Research and Development Committee as well as leadership positions as Poverty Intervention Issue Coordinator and, most recently, Kids in the Kitchen (KITK) Chair.
Emily is a project manager in the Workplace Interiors market sector at Corgan. Emily has a Bachelor of Science in Human Sciences with an emphasis in Interior Design from Oklahoma State University.
Outside of JLD, Emily is an active member with The Real Estate Council (TREC) and was a member of the Associate Leadership Council Class of 2020. She has also served as the Leadership Alumni Representative on TREC's Political Action Committee Board of Directors.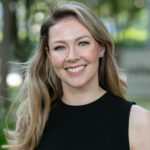 Jordan Wondrack Zaidi
Jordan grew up in Lawrence and Overland Park, KS. She moved to Dallas to attend SMU and has been here ever since! She is a qualitative health researcher specializing in migration, race, and health outcomes. She holds an MA in Biomedical Anthropology from SMU, an MPH in Epidemiology from UTHealth, and is completing a PhD in Cultural Anthropology at SMU now, where she also teaches.
Jordan has been involved in the Dallas community in a variety of ways, including teaching ESL at Literacy Achieves, serving on the SMU Young Alumni Board, and as a TI Founders Leadership Fellow at the United Way of Metropolitan Dallas.
She joined the League in 2016 and has been fortunate to serve at Our Friends Place, as an Underwriter, on the Research and Planning Committee, on Strategic Planning, to take part in the T. Boone Pickens Leadership Institute, and most recently, as Placement Chair. She loves discovering new things in Dallas, reading, and cooking. Jordan lives in Uptown with her partner, Shan, and their daughter.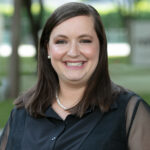 Susanna Carrillo
Susanna began her career in campaigns and public policy, working in the Virginia House of Delegates. She moved to Dallas in 2012 with Teach For America and stayed in public education through nonprofit leadership. Susanna is an alumni of Patrick Henry College and Johns Hopkins University.
Since joining the Junior League of Dallas in 2018, Susanna has served in positions with Grants for Innovative Teaching (GFIT), the Cliburn Competition, and most recently was part of the Centennial Committee and Project Chair for the Juanita Craft House project.
Susanna is a member of All Saints Anglican Church in downtown Dallas and lives in East Dallas with her husband and children.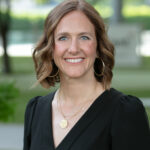 Brooke Bailey
Brooke Bailey has been a member of the Junior League of Dallas for 13 years and served as JLD President in 2019 – 2020. It has been her privilege to put her JLD training into action throughout the Dallas nonprofit community. She is thrilled to be a part of the fabulous 2023 – 2024 JLD Board of Directors as Sustaining Advisor!
Leadership Council
The Leadership Council implements the programs and policies of the Junior League of Dallas. These leaders and their committees govern their respective responsibilities within the policies set by the Board.
Auction Chair: Vanessa Fuquay
Brand Strategy Chair: Kathleen Francke
Community Initiatives Director: Ashton Keller
Community Advisory Board Chair: Amy Rosellini
Diversity, Equity, Inclusion & Belonging Chair: Jennifer Hanna
Education & The Arts Impact Director: Jenna Berg
Education Chair: Kristen Holland Shear
Emerging Projects Director: Keri Johnson
External Communications Chair: Jennifer Mills
Finance Chair: Nicole Rodriquez
Governance Chair: Alexandria Twiss
Headquarters Chair: Julianne Cook
Health & Wellness Impact Director: Maria Bacalao
Internal Communications Chair: Georgia Grey
League-Initiated Projects Director: Melissa Jacobowski
Luncheon Chair: Sally Hodge
Membership Chair: Camille Moore
Member Engagement Chair: Kiki Gao
New Member Chair: Jessica Pantano
Nominating Chair: Emily Hoad
Placement Chair: Brandi Garrett
Provisional Chair: Cody Simpson
Public Relations Chair: Sherry Daniel
Recognition Chair: Emily Wilcox
Research and Development Chair: Caitlyn Royal
Research and Planning Chair: Kristina Kelley
Signature Projects Grants Director: Leigh Ann Sheffield
Social Media Chair: Aleshea Carriere
Special Events Chair: Claudia Neba
Strengthening Families Impact Director: Wintress Ross
Sustainer President: Candace Winslow
T. Boone Pickens Leadership Institute Chair: Anna Stutler
Technology Chair: Cassandra Watts
Transfer Chair: Ann Fritsche
Underwriting Chair: Katie German