Juanita J. Craft Civil Rights House
Ms. Craft devoted her life to equal rights. From 1950 until her death in 1985, her home near the Fair Park neighborhood served as command central for many pivotal civil rights moments in Dallas, across the state, and beyond. 
Ms. Craft's willed her home for civic use after her death and is now owned by the city of Dallas. It is designated as a Dallas City Landmark Commission site, is listed on the National Register of Historic Places, and is also a Texas Historic Landmark property. Craft made it known before her death that she wanted the home to be a place where people of all backgrounds could visit and learn how to become a change-maker.
Since 1994, the home has operated as a house museum. But in 2018, it was damaged when a water pipe burst in the attic. Restoring the home is the Junior League of Dallas' Centennial Project, a partnership with the Dallas Office of Arts & Culture, Fair Park, and the Friends of the Juanita Craft Civil Rights House. 
We have joined key organizations and community leaders in donating critical funds and support to restore her home, so it can be a place for all to learn about its place in Dallas' history and civil rights. The ribbon cutting will be in Spring 2023. 
For the 2022 – 2023 League year, JLD adopted the Juanita J. Craft Civil Rights House as a Signature Project. This year the League joined together with the State Fair of Texas and Dallas ISD to distribute a commemorative Juanita J. Craft coloring book to more than 10,000 students across Dallas.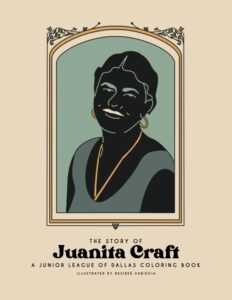 Learn More About The Juanita J. Craft Coloring Book
Who is Juanita J. Craft?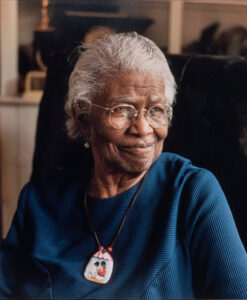 About a mile from Fair Park, in a home a couple blocks off Malcolm X Blvd. on Warren Ave., a Dallas woman fought tirelessly to dismantle segregation at the State Fair of Texas. In 1955, Juanita Craft's only option to attend the Fair was on 'Negro Achievement Day,' the one day of the Fair when African Americans were allowed to attend. Craft had already built a reputation as a prominent figure in the civil rights movement. That year, on Oct. 17, she organized the NAACP Youth Council in a protest and began a more than a decade-long fight to bring about change at the State Fair, which was completely desegregated in 1967.
Craft then worked closely with State Fair officials and was honored at the Fair on her 80th birthday. When she died in 1985, her memorial service was held at the Fair Park Hall of State. Now, the State Fair hosts the Juanita Craft Humanitarian Awards to recognize individuals making an impact on civil rights in Dallas. 
Craft joined the NAACP in 1935 and seven years later became the Dallas membership chair. Her vision for the NAACP Youth Council became a blueprint for other chapters nationwide. Craft was the first black woman to vote in Dallas County and served for 20 years as a Democratic Party precinct chair. She was also the first black woman in Texas history to be deputized as a poll tax collector. Along with her efforts at the State Fair, Craft helped desegregate the University of Texas and North Texas State College (now the University of North Texas).
She became a Dallas City Council member at age 73, serving two terms from 1975 to 1979. A post office, park, and recreation center are all named in her honor.
On May 20, 2023, JLD, the City of Dallas Office of Arts and Culture, Friends of Juanita Craft Civil Rights House & Museum, and other community partners were pleased to announce the completed restoration and rehabilitation of the Juanita J. Craft Civil Rights House, honoring the legacy of the civil rights leader. Located in the Wheatley Place Historic District near Fair Park, the historic home is now open for public tours.
Along with other community partners, the Junior League of Dallas dedicated time and funds, raising $1.4 million to complete the restoration of Ms. Craft's home.
JLD Centennial Project: Juanita J. Craft Civil Rights House & Museum