Founded in 2013 by the Junior League of Dallas, the Women LEAD (Learn • Excel • Achieve • Dream) scholarship program was created to assist female high school students in pursuing their dreams of higher education. Since the program began, the League has awarded 62 scholarships totaling more than $305,000 to female seniors at Emmett J. Conrad, South Oak Cliff and Thomas Jefferson High Schools.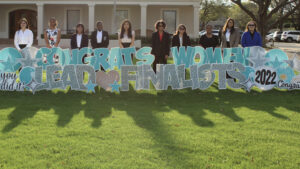 The 2022 – 2023 application process is closed.
Timeline
September – Scholarship application is released to students.
December – Applications due to student's senior counselor's office.
February – Finalists to be announced. Speech workshop offered for the 10 finalists to help prepare for the competition.
March – Finalists prepare and practice for final speech competition, held at the end of the month.
March – Final Speech Competition.
Eligibility
Must be a female senior student currently enrolled (as of Aug. 20, 2022) at Emmett J. Conrad High School, South Oak Cliff High School or Thomas Jefferson High School in the Dallas Independent School District.
Must have at least a 3.0 GPA at the end of her junior year.
Must plan to attend a two- or four-year accredited college, university or vocational school.
Must have good character and a record of service to the school and community.
Application
Eligible students must submit a typed or clearly printed application with the required documentation in an envelope to be submitted to the senior counselor's office by December 2, 2022.
Application Workshops

–

A chance for potential applicants to learn about the Junior League of Dallas, the Women LEAD Scholarship, and the application process. During this session, applicants can ask questions about the steps needed to apply. Application workshop dates are as follows: South Oak Cliff High School – 

November 9, 2022 at 12:00pm

, Thomas Jefferson High School – 

November 9, 2022 at 1:00pm

, and Emmett J. Conrad High School – 

November 16, 2022 at 3:00pm

.
Selection
The Women LEAD Scholarship Program Committee will review the applications and select up to 10 finalists.
Speech Workshop – If selected as a finalist, finalists may attend a public speaking workshop to perfect their skills and prepare for their speech competition. Workshop date to be announced.
Speech Competition
Finalists must prepare a three-to five-minute speech based on the essay topic decided by the committee to be delivered at the speech contest on March 29, 2023.
Finalists will be judged on content, delivery and stage presence by a panel of League members and community leaders.
Scholarship Awards
The scholarship winners will receive the following one-time awards:
1st place: $15,000
2nd place: $10,000
3rd place: $5,000
4th place: $3,000
5th place: $2,000
6th-10th honorable mentions: $1,000 each