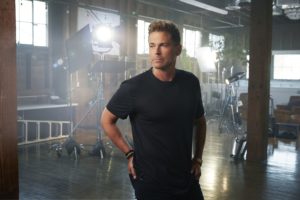 Rob Lowe's iconic career spans four decades in film, television, and theater. He is also an acclaimed author. Rob has been nominated for two Emmys, six Golden Globes, and four Screen Actors Guild Awards of which he won two. He has starred in the '80s classics St. Elmo's Fire, About Last Night, and The Outsiders, as well as television classics such as The West Wing and Parks and Recreation. Rob's incredibly diverse career also includes scene-stealing work in Behind The Candelabra, Austin Powers, and Tommy Boy. His two memoirs, Stories I Only Tell My Friends and Love Life, are both New York Times Bestsellers. He has taken his first memoir and made it into a touring show called Stories I Only Tell My Friends: Live! which has received rave reviews throughout the country and sold out in London.
Most recently, Rob directed and starred in a reimagining of the Oscar-nominated classic, The Bad Seed. He executive produced and starred in Holiday in The Wild, which was one of the most downloaded movies of the year for Netflix. He also hosts the mental challenge competition series Mental Samurai on FOX. In 2019, Rob joined with Ryan Murphy to executive produce and star in the hit drama, 911 Lonestar, which begins its third season in January 2022 and is consistently one of the top-rated shows in all of television.
In 2020, Rob launched his podcast Literally! With Rob Lowe, now in the third season. The irreverent yet thoughtful podcasts are conversations with the leaders in the world of entertainment like Oprah, Chris Pratt, Gwyneth Paltrow, Matthew McConaughey, Jennifer Aniston, and others. Rob launched another new podcast, Parks and Recollection, in 2021. Co-hosted with showrunner Alan Yang, the podcast is a behind-the-scenes look at each episode of the celebrated comedy classic Parks and Recreation.