Sustainer President Letter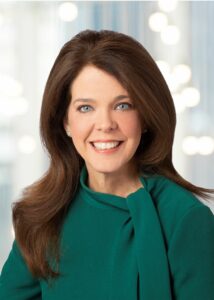 Dearest Sustainers,
Welcome to the 2023-24 Junior League of Dallas Sustainer Year!  I am beyond honored to serve you as the 2023-24 JLD Sustainer President.  Clearly, I follow in the steps of so many great women who have served our community in tremendous ways through their excellent leadership.  What a joy it is to continue to give back to the organization that was instrumental in shaping my view of how to serve the community well!
At our June Leadership Council meeting, we celebrated the extraordinary achievements of the 2022-23 year under the leadership of Monica Christopher.  Monica and her Council offered us so many engaging programs, events and trips, all the while attending to strategic issues like the formation of our Development Collaborative with Actives (more news forthcoming on that initiative later this year!).  My heartfelt gratitude goes to Monica for ensuring a seamless turnover to our new League year!
This year, I have chosen a theme of "Smile First" for us to consider as Sustainers.  This theme is based on my story of how I made my very first friend in the Junior League of Dallas.
When I joined JLD back in 1994, the majority of my friends were made in my workplace, as I am originally from Houston, and moved to Dallas to begin my career.  I joined the League to cultivate new friendships outside of work, with women who might have common interests, while wanting to make a difference in our community.
At my Provisional retreat, I remember feeling very anxious and uncertain, because I was going to spend a lot of time with a lot of women I did not know.  During the retreat, I remember looking across the room at another woman who in turn, automatically and kindly smiled at me.  I immediately thought, "Why is she smiling at me? Do I know her?  Do I have something on my face?"  But then I recognized she was simply smiling at me to connect and to make a new friend.  She ended up not only being the first person I greeted at my wedding reception four months later, but also the first person I served with in my community placement at Bryan's House.  From the moment meeting her, I knew the League would be the place I would make my closest friends and that statement holds so very true almost 30 years later.
This year, within and outside of our League walls, may we be women in the community that "smile first."  May we be the ones who offer the kind word, the gentle gesture, or the act of great service that lift someone when they need it most.  I think this posture absolutely reflects the heart of the Junior League of Dallas!
Please stay tuned for a US mailed newsletter coming mid-summer that will announce so many things to look forward to for the 2023-24 year.  And here's a sneak peek of the first date of the new year! Please place September 12 from 5:30 – 7:30 pm at JLD Headquarters on your calendar for our Sustainer Kickoff, chaired by Sally Dutter and Francie Mancillas.  This evening will give you a full view of all to expect in the coming year ahead!
Enjoy your summer!  😀
Candace Winslow
2023-24 Sustainer President