Congratulations to the 2022 – 2023 T. Boone Pickens Leadership Institute Class
Monday, August 22, 2022
We are proud to announce our T. Boone Pickens Leadership Institute Class of 2022 – 2023: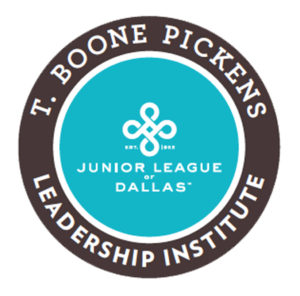 Jenna Berg
Kimberly Blanton-Day
Aleshea Carriere
Jennifer Childers
Alexis Cook
Julianne (Julie) Cook
Nicole Devlin
Ann Fritsche
Brandi Garrett
Kelsey M George
Paige Hayes
Amber Knowles
Kelsey Kolandjian
Christine Leatherberry
Ashlee Long-Washington
Audrey Maxwell
Quiana Sawyer Mitchell
Claudia Neba
Cait Phelan
Michelle Prudhomme-Coleman
Molly Robben
Lynn Sawyer
Mary Kathleen Smith
Anna Stutler
Laura Sullivan
Cassie Walker
Jennifer Welden
Tessa Wilkin
Laura Zamora
Nicole M. Zrake
These women will grow their leadership skills and development training during this course. Past TBPLI graduates have advanced their careers, led for- and nonprofit boards, and served in elected and civic positions.
Good luck this year, Class of 2022 – 2023! We can't wait to see how you grow as leaders!
Be sure to connect with the class on LinkedIn.
Learn more about JLD's T. Boone Pickens Leadership Institute here.
Tricia Buchheit
T. Boone Pickens Leadership Institute Chair
2022 – 2023