JLD Signature Project Spotlight: Women LEAD
Saturday, May 7, 2022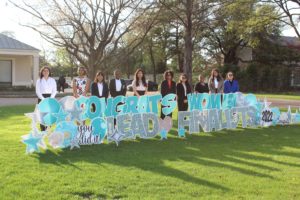 On Wednesday, March 30, 2022, the Women LEAD Committee hosted the 10 Women LEAD scholarship finalists at the Junior League of Dallas Headquarters for their annual speech competition. Every year, senior girls from three local high schools, Thomas Jefferson, South Oak Cliff and Emmett J. Conrad, are invited to participate in the scholarship competition. The first prize winner receives $15,000 in scholarship money. 
The topic for the essay and speech focused on the following prompt:
In 2021, Naomi Osaka, rising tennis star, made the decision to leave the French Open after a conflict with the tournament leadership. Osaka opted not to participate in the traditional press conference, citing a need to prioritize her mental health. Osaka's decision was heavily criticized by the media, the League and other players. She maintained her position that she was doing what was best for herself and career. Describe a time that you made a decision that might have been unpopular that you felt was the right move for you?
Members of the Women LEAD Committee met with students in the fall during an application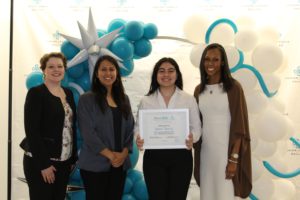 workshop to review and help the girls during the application process.
Entrants submitted an application by the December deadline complete with transcripts, letters of recommendation, a resume and a short essay. The Women LEAD Committee scored applications based on GPA, class rank, references and essay strength. 
The top 10 finalists then participated in a speech workshop in February. Committee members met with finalists to help them turn their essay into a speech. In March, the finalists, their families, school counselors and the Women LEAD Committee gathered to watch the finalists give their speeches. This year, JLD members were invited to join and listen to each of the powerful speeches via Zoom due to COVID-19 precautions. 
Our judges this year were JLD President Christa Sanford, the Ryan Foundation Executive Director Amy Kendrick Lee and Dallas ISD Board Trustee Karla Guadalupe Garcia.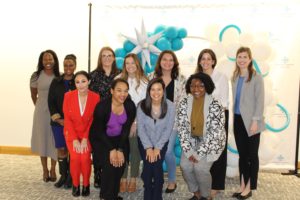 This year's winner was Jessica Ramerez. She told us, "This scholarship has given me the opportunity to attend my chosen college without worrying about affordability. That was my biggest worry when thinking about attending college. Now, I can pursue a degree in Electrical Engineering at Boston University and focus on my education. I hope to prove to myself and my community that students like us can attend and graduate from prestigious schools and inspire generations to come to do the same."
The Women LEAD Committee is grateful for another successful year. We hope to see you all next year for the 2022 – 2023 speech competition! 
Cami Sharp
Community Relations & Events Liaison
Women LEAD Committee
2021 – 2022