Juanita Craft's Legacy Honored by City as Centennial Project Nears Completion
Sunday, March 6, 2022
Juanita J. Craft knew what she wanted her legacy to be. "I want them to remember one thing – I raised hell with them."
As a prominent Dallas civil rights leader and the second Black woman elected to the Dallas City Council, Craft led a three-decade long fight for desegregation and equal pay, voting rights, education and health care. Crucial to her hell-raising was Craft's home on Warren Avenue in the Fair Park neighborhood of Dallas. During the height of her activism, it served as a central hub for community organizing and stood witness to many pivotal civil rights moments in Dallas history. Notable visitors included Rosa Parks, Martin Luther King Jr., Thurgood Marshall, our country's first Black Supreme Court Justice, Presidents Lyndon B. Johnson and Jimmy Carter and numerous U.S. congresspersons and Texas state legislators.
The home was willed by Craft for civic use after her death and is now owned by the city. It is designated as a Dallas City Landmark Commission site, is listed on the National Register of Historic Places and is also a Texas Historic Landmark property. Craft made it known before her death that she wanted the home to be a place where people of all backgrounds could visit and learn how to become a change maker.
Since 1994, the home has operated as a house museum. But in 2018, it was damaged when a water pipe burst in the attic. Restoring the home is the Junior League of Dallas' Centennial Project, a partnership with the Dallas Office of Arts & Culture, Fair Park and the Friends of the Juanita Craft Civil Rights House.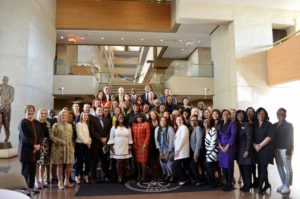 In February 2022, on what would have been Craft's 120th birthday, her successors on the City Council honored her with a proclamation designating Feb. 9 Juanita Craft Day. The proclamation accompanied an agenda item authorizing the city's Office of Arts and Culture to accept a $176,000 donation from the League for the restoration of Craft's home. The donation brings total fundraising contributions among the various community partners to $1.4 million.
"Juanita Craft's home was a nexus for the greatest minds of her time. Once her home re-opens later this year, our hope is that it is constantly alive with the greatest minds of today, curious to learn about the past and helping to grow the city's future," JLD President Christa Sanford said. Once restored, the home will once again be a museum with educational programs that tell the story of Craft's life and advocacy.
"It is our hope that each person that crosses the threshold of Ms. Craft's home is transformed into a better version of themselves, committed to actively participating in civic life," Candace Thompson, Chair of the Friends of the Juanita Craft Civil Rights House, said in remarks to the City Council. 
Dallas Mayor Eric Johnson said that the proclamation is about more than commemorating a single day. "It's about recognizing that generations of people have and will continue to benefit everyday from Craft's lifetime of work."
The proclamation celebration was attended by Dallas City Council members, including JLD Sustaining members Gay Donnell Willis and Paula Blackmon.
Adam Bazaldua, Chair of the City of Dallas' Quality of Life, Arts & Culture Committee and Council Member representing where the home is located said, "Being able to share the life and legacy of Ms. Craft with generations to come is invaluable. Some don't realize that we have such a hero right here at home. It is our job to change that."
Bazaldua also talked about the civil rights changes seen over a generation. In 1955, working as a grassroots organizanizer with the NAACP, Craft led picketing against segregation at the State Fair of Texas. Her work led to the full desegregation of the fair in the 1960s. In 2018, the State Fair of Texas established the Juanita Craft Humanitarian Awards and recently renamed one of its annual scholarships in her honor. At this year's fair, Craft's legacy was on display at the JLD's Centennial exhibit in the Hall of State. 
"Juanita Craft dedicated decades of her life to making this city better," Mayor Johnson said. "The fight for fairness, the fight for opportunity and for equality under the law didn't begin or end in Juanita Craft's lifetime. It's up to us to continue that cause to which she dedicated her entire life."
Join the League's Centennial Celebrations. 
Kathryn Bazan
Story Developer, Public Relations Committee 2021-2022